Photo Credit: Eddy Chen, HBO
A recap of season two and all that's on our minds
Athena Bucci & Isabelle Buchanan, The Mike Features Editor & Editor-in-Chief
For all of the fans of HBO's hit series Euphoria, we were in for a bumpy ride during season two. From toxic relationships to drug use to unanswered questions, this show came in kicking and ended on such a high note that fans are already anxious about the next season, which will not be out for another little while. Of course, critics were still quick to comment on the show's explicit adult content and how it has been represented in this season. Despite any controversy, Euphoria proved how its mature subject matter and content maintain realistic points of view and how the cast portrays the characters this way. (WARNING: This article contains spoilers to season two! Please read at your own discretion.)
Drug Use
One of the major subjects of the show has been drug addiction. We watch the protagonist and narrator of Euphoria, Rue Bennett (Zendaya), battle with her drug addiction and hiding it from her family and friends. Rue made it very clear from the beginning of this season that she had zero intentions of staying sober and goes as far as trying to loan thousands of dollars in drugs and gaslighting her own sister so she can get her way. The show has been known for its proper depiction on how drugs truly can affect people, their body and attitude, and the way the lives of the people around them are affected as well.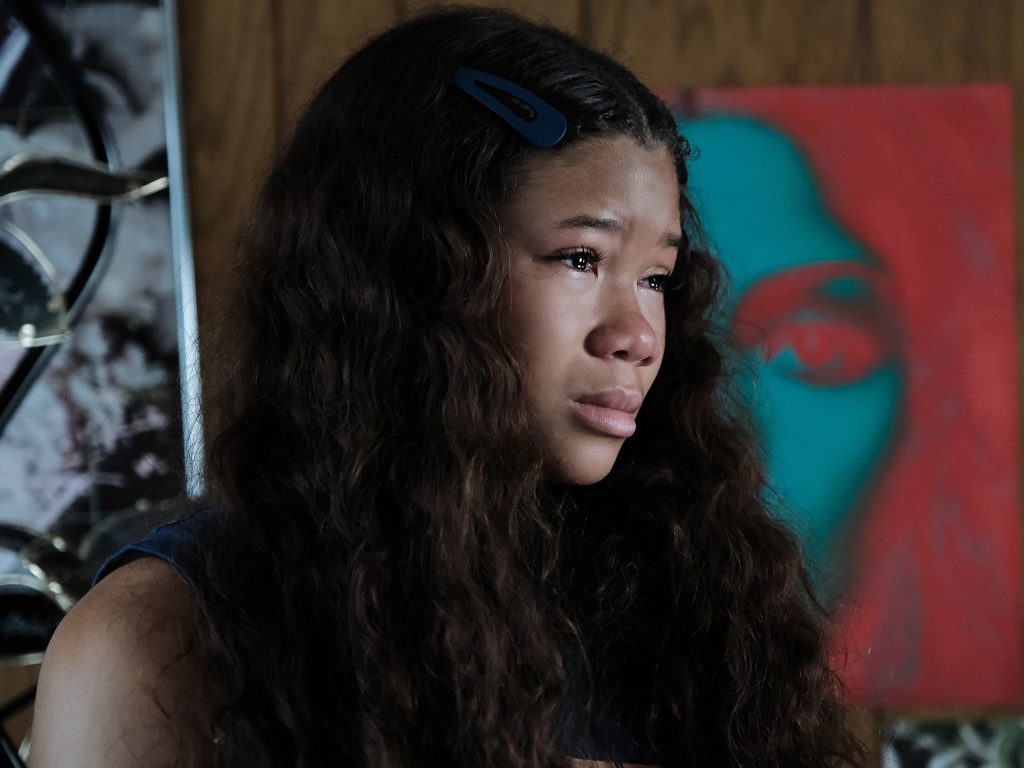 Gia (Storm Reid) cries as she struggles to grapple with her sister's addiction. (Eddy Chen, HBO)
In episode five, for example, Rue's mother, Leslie (Nika King), has destroyed the drug stash, after Jules (Hunter Schafer) and Elliot (Dominic Fike) tell her about Rue's relapse. They plan an intervention, which of course, in the Rue Bennett fashion, goes awry. Rue trashes the entire house, breaks up with Jules, escapes out of her mother's car, and she goes on a run, avoiding getting hit by cars and arrested by the police, all while going through withdrawal symptoms. Zendaya was praised for her performance in this episode and could have likely just received another Emmy nomination. However, the Drug Abuse Resistance Education (DARE) organization criticized the show, claiming that Euphoria "misguidedly" glorifies this drug use and much of the show's other explicit content. Zendaya, who is also an executive producer on the show, responded to this criticism in an interview with EW, saying that the aim of the show is to, "help people feel a little bit less alone in their experience and their pain." Zendaya had also posted a trigger warning before the first episode of season two started to remind fans of the kind of content being shown could be triggering, and that it is more for mature audiences.
The second season also introduced how the local drug dealer, Fezco (Angus Cloud), and his young partner/adopted brother, Ashtray (Javon "Wanna" Walton), end up working in the drug business as young children. Viewers got to watch more closely just how dangerous and violent of a business it is, from questioning loyalty, to betrayal, to murder. In the season finale, which just aired February 27th, the show comes full circle with Fez and Ashtray; a murder committed by Ashtray from the beginning of the show eventually leads to the police breaking into Fez's home, and ultimately to Ashtray's own death. The show leaves off with Fez arrested, leaving fans to wonder what will eventually happen.
Relationships
The relationships and behaviour of characters shown in this season were pretty realistic. Watching Cassie Howard (Sydney Sweeny) fawn over Nate Jacobs (Jacob Elordi) was exactly how high school girls act when they try very hard to get a guy's attention. We watch in episode three as Cassie wakes up everyday at four o'clock in the morning to shower, do a lot of skin care, and style her hair and clothes, in hopes that Nate will look her way when they pass each other in the hallways. A teen girl in Cassie's position, who has had multiple relationships, relies on the idea that she needs an intimate partner to make her feel whole. In doing so, she risks her relationship with her best friend Maddy (Alexa Demie), Nate's ex-girlfriend, who fans know to be completely loyal, confident, and fearless, but also feared by everyone.
Maddy (Alexa Demie) looks at her reflection at East Highland High School. (Eddy Chen, HBO)
While Cassie is the obvious antagonist in this scenario, a surprising number of fans caught themselves wondering why they took her side. Everybody knows that hooking up with your best friend's ex-boyfriend is unforgivable, and hopefully most of us would never even consider it. So why would people who would never let a guy come between their friendships defend Cassie? It has to do with the way Cassie and Nate's relationship began and progressed. Throughout season one and two, we see Cassie has a highly insecure character, despite being classically beautiful, who needs external validation to subdue these insecurities. Fans can empathize with this: most girls can relate to Cassie's insecurities and the need for external validation, which as in Cassie's case, is too often achieved through male attention. Throughout season one, Cassie hops from guy to guy seeking attention, embarrasses herself while quite intoxicated, and does a slew of other questionable things, all to curb her insecurities. 
When Nate approaches a recently-single Cassie at the beginning of season two, fans see Cassie more as a victim than as an active participant in the relationship. Nate's mental torment and treatment of Cassie as though she'll never be good enough causes his validation to be even more important to her, to the point where she becomes almost addicted to pleasing him and getting his approval. This is seen in scenes where she changes her entire persona multiple times, trying to figure out what Nate wants, culminating in Cassie telling Nate to choose everything she does, from dressing her to deciding her friends: all this to create the 'perfect' girl that's worth love and attention. While maybe not to the same extent, many fans related to the manipulation and seeking validation that is demonstrated in Cassie and Nate's relationship. Understanding what Cassie is going through, we can see her as the victim and justify her actions: Nate, the toxic and cruel boyfriend, is easier to blame than the vulnerable girl we can relate to. Therefore, many fans caught themselves feeling sorry for Cassie, despite being completely opposed to her actions, since they have had similar experiences. However, as the season progresses, it becomes more and more difficult to justify Cassie's actions and stay on her side, but a twinge of empathy towards her still resides.
In general, Euphoria represents relationships in interesting, but still accurate, ways. However, the relationship between Kat Hernandez (Barbie Ferreira) and Ethan Daley (Austin Abrams) has received a lot of backlash. This couple started dating right at the end of season one, as Kat was discovering her sexuality and looking for someone to treat her with kindness and respect. Ethan might not have been as bold or experimental as Kat, yet to no one's surprise, she eventually breaks up with him over these differences in season two, episode six. However, most fans have pointed out that the breakup was not true to their relationship or to Kat's character. The scene starts with Kat rudely on the phone with Maddy, completely ignoring Ethan who skipped his rehearsal to see her. When she finally gets off the phone, she chickens out of breaking up with him, only to tell him that she has a terminal brain disorder and would feel bad staying with him. Fans were very confused with this directorial choice: Kat is confident and unapologetically herself, someone who isn't afraid to speak her mind and be honest. Pretty much, she's the exact opposite of how she was perceived in that scene. This disappointing change in character, as well as Barbie's huge cut in screen time in the second season has fans speculating: many chalk this up to a rumoured falling out between Barbie and Sam Levinson (the creator and producer of Euphoria). Whatever the reason, the betrayal to Kat's strong personality has disappointed most fans.
Unanswered Questions
The season two finale left fans with many answered questions. While this leaves viewers in anticipation for season three, there are some questions as to whether certain storylines were forgotten or overlooked.
Firstly, the business between Rue and Laurie (Martha Kelly), the drug dealer who gives Rue $10,000 worth of drugs to sell, is completely unresolved. Upon giving her the drugs, Laurie ensures Rue that she always finds a way to collect her money when someone is unable to pay. This is the situation Rue finds herself in after her mom flushed the drugs. While she tries to pay off the debt with stolen jewellery, Laurie rejects this offer and seems to want to traffic Rue or harvest her organs. Rue manages to escape the house and Laurie isn't heard of again. It seems pretty unlikely, though, that an emotionless drug dealer would let someone off that easily.
Rue (Zendaya) sits in the back of her mother's car. (Eddy Chen, HBO)
Secondly, there was a lot of buildup in the relationship between Maddy and Samantha (Minka Kelly), the mom of the kid Maddy babysits. In the first scene where Samantha is introduced, the audience feels some sexual tension between her and Maddy, which heightens when we see that Samantha has been filming Maddy try on her clothes. Why has Samantha been filming Maddy, and what is she doing with the footage? Will she and Maddy get together or hook up? Or is this tension one-sided on Samantha's side? These are all questions that fans were hoping would be answered in the season finale, yet this storyline seems to now be irrelevant.
Thirdly, one question that has been on everyone's minds since the first season: what happened to the third Jacobs brother? A family photograph that hung on the wall of the Jacobs' stairway shows that Nate had a younger brother, who has not been seen or mentioned in the show at all yet. The brother is a mystery to all, including the cast themselves, who still have no answers, despite asking around on set. Many fans predicted that Ashtray was the younger brother, but given his storyline and how he ended up with Fezco (Fez) and his grandma, that theory is now irrelevant. One theory suggests that Elliot may secretly be the brother, which was enough to convince Dominic Fike and Eric Dane, who plays Cal Jacobs, into getting on board with this theory. Many fans also speculate that this brother must have died at some point, which could partially explain the tension that has existed in the Jacobs family.
Finally, probably the most anticipated question: what happened to Fezco? The last episode shows the police busting down their door, a shootout between Ashtray and the police, and Fezco's arrest. All this happened when Fez was about to leave for Lexi's (Maude Apatow) play, which would have hopefully solidified their long-anticipated relationship. We see a card written to Lexi on the ground as Fez gets arrested, leaving the viewers wondering what was written, and whether Lexi will ever find this card. More importantly, how will Fez and Lexi's relationship continue throughout next season?
There are so many questions left to be answered. For the time being, we're left to speculate and create theories about what we think will happen to our favourite characters next season. While season three will not be released until the late winter or early spring of 2023, it is much anticipated. We know we can't wait to find out what will happen next!